After one year of implementation, the project "Waste Management at Hoang Dong commune, Thuy Nguyen district, Hai Phong city" has been successfully completed. On September 29th 2017, The Consultative Institute for Socio-Economic Development of Rural and Mountainous Areas (CISDOMA) in coordination with Damen Song Cam Shipyard (DSCS) organized the ceremony to hand over the project to Hoang Dong Commune People's Committee.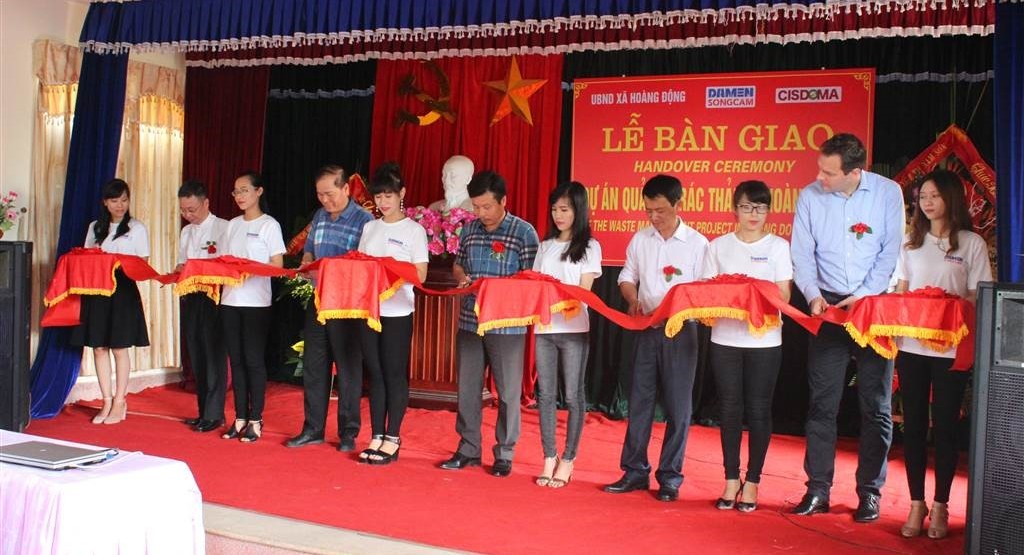 Handover ceremony
Solid waste management used to be a serious environmental concern in Hoang Dong commune due to limited sorting at source and improper storage, collection, and treatment. The improper disposal of solid waste caused environmental impacts such as soil degradation, water quality impairment and air pollution, all with direct or indirect consequences for public health.
Implemented from August 2016 to August 2017, the project aimed at improving the living environment of Hoang Dong commune through a series of activities. In this project, CISDOMA, was in charge of providing technical advisory to the project team, and together with local partner conducted various activities for the local community in terms of awareness raising, communication activities on environmental protection, trash classification, and compost making from household solid waste.
As results from the project, about 1458 m3 of household waste was collected, transported and treated; 2 waste stations were built; 28 waste trolleys were provided; and 800 trees were planted.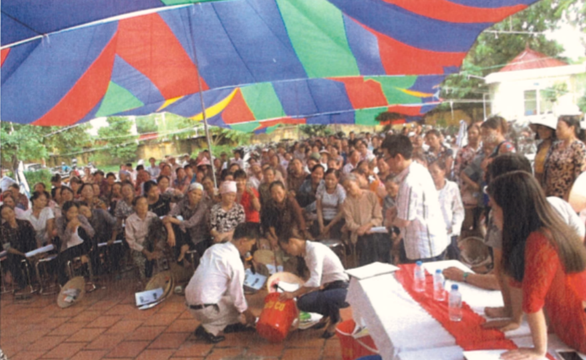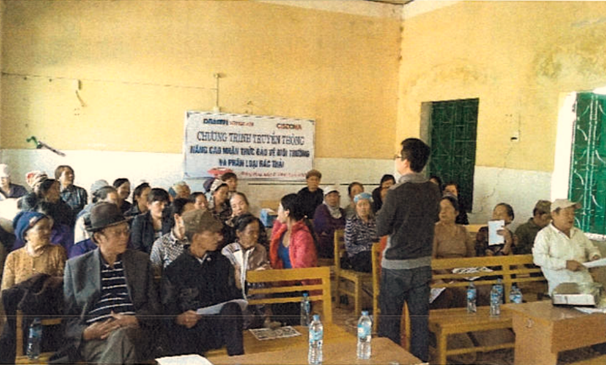 CISDOMA's experts are presenting at the waste management forums
Three forums were held to raise awareness of commune people and change their behavior on waste management. More than 200 villagers participated in these forums to learn about collecting and classifying waste using different types of waste bins.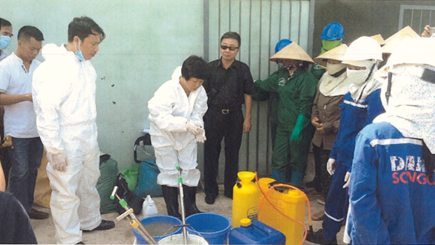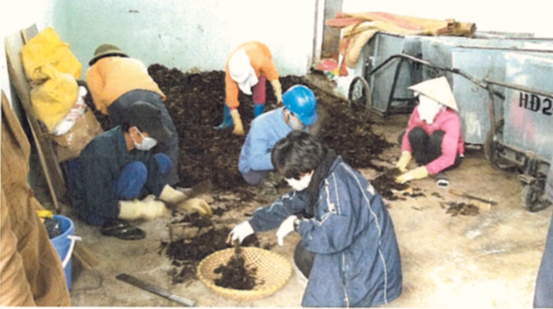 Training on compost production from organic waste
CISDOMA also provided trainings and hands-on coaching on compost production from organic waste, benefiting 75 people including villagers, DSCS employees, representatives from Thanh Xuan JSC – waste contractor and QSI – an international school in Hai Phong. The compost produced in this project was checked regularly during the process and its quality was tested by The Soils and Fertilizers Research Institute after 46 days. According to the test result, the quality of this product met the required standards for households to use to grow vegetables. A composting contest was organized after these trainings, with active participation of the local. Composting not only can help to reduce the amount of waste that needs to be disposed of, but also convert it into a product that is useful for gardening. Compost enriches soil and helps retain moisture, then reduces water and chemical fertilizer use.
Aside from the above, the project also conducted activities that specifically aimed at young generation, including three outings for Hoang Dong kindergarten, primary school and secondary school students to nurture their love of nature and enhance their knowledge of environmental protection through playing games, and collecting and classifying waste. These events had the contributions of enthusiastic student volunteers of Vietnam Maritime University, who also came to Hoang Dong primary and secondary schools every week to talk about environment pollution, waste issues and recycling. An environmental club was established at Hoang Dong secondary school in order to maintain these activities.
At the handover ceremony on September 29th 2017, the compost made from project was displayed, attracting great attention from participants. Speaking at the ceremony, representatives from Hoang Dong Commune People's Committee expressed sincere thanks to all donors and CISDOMA for implementing the project that has contributed to reduce environmental pollution, raise awareness about environmental protection, and improve income of the community from waste recycling at locality.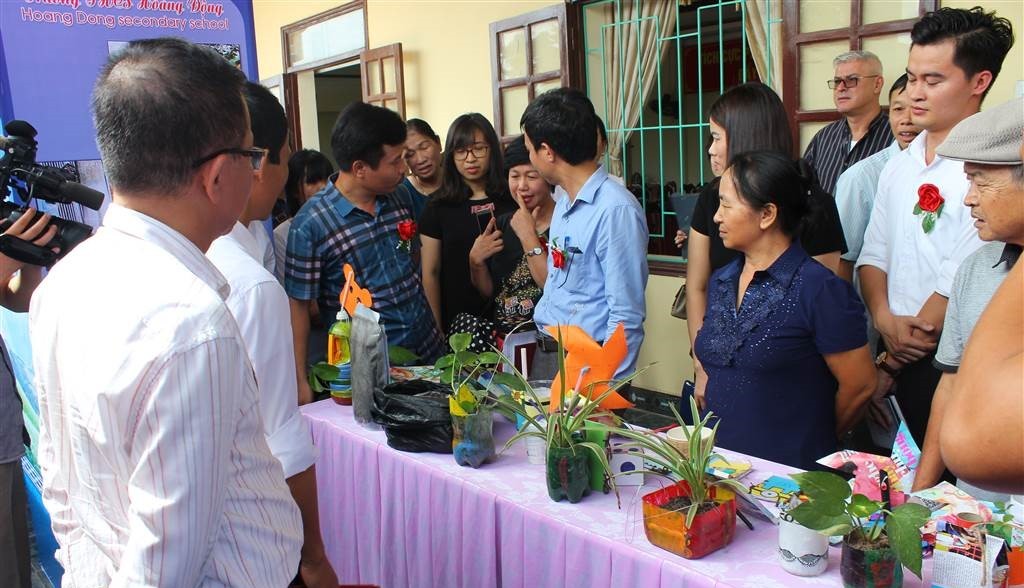 Expert from CISDOMA is answering questions about the compost production at the handover ceremony
For more information about the project, please click here to watch the news in Hai Phong Radio and Television Station (from 11:40 min to 13:01 min).