Although Vietnam has made great efforts to reduce the use of toxic chemicals in agriculture, the use of pesticides and herbicides remains common and causes negative impacts on the environment, on farmer's health and food safety. In recent years, CISDOMA has carried out many activities to address this issue.
According to the Plant Protection Department (Ministry of Agriculture and Rural Development), there are about 1,700 active ingredients of pesticides in Vietnam and over 4,000 commercial products with different names. In early 2019, a US court judged that the main ingredient in Monsanto's Roundup herbicide- Glyphosate had a strong link to cancer. Subsequently, the Ministry of Agriculture and Rural Development of Vietnam decided to remove pesticides containing the active ingredient Glyphosate from the list of pesticides allowed to be used in Vietnam. However, at that time Vietnam still had 5 million liters of Glyphosate-containing herbicides on the market.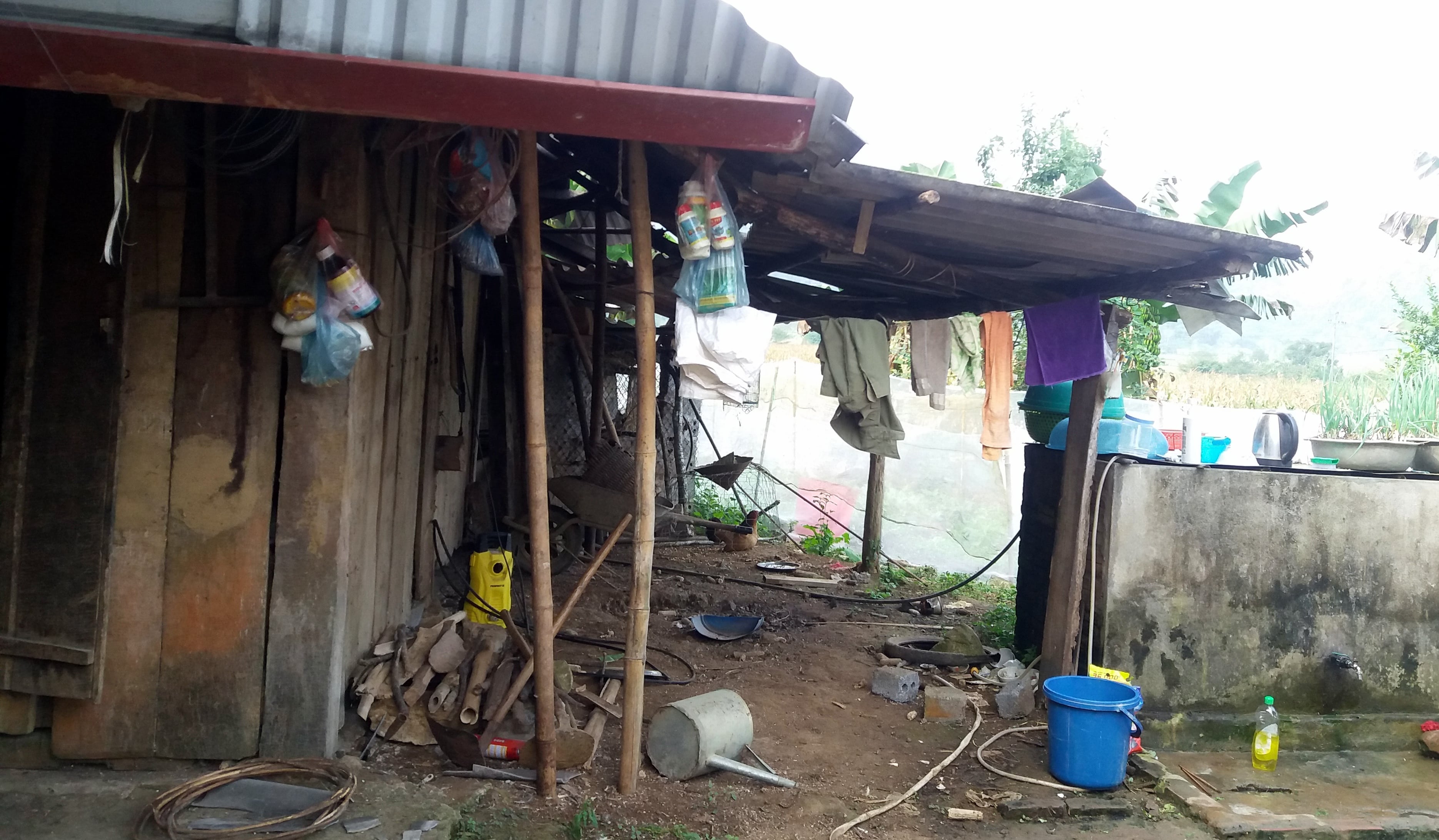 The pesticides are hung on the wall, near the family's water tank.
Statistics show that each year Vietnamese farmers use hundreds of thousands tons of plant protection chemicals, 30% of which are herbicides. It is worth noting that farmers are often less concerned with the toxicity symbols on the packaging and are unaware of the toxicity of the pesticides they are using, but often care about the pest killing impacts, and the price. Most farmers want to use pesticides at higher doses than recommended for faster effects of their spraying.
A survey conducted by CISDOMA on 300 households in 3 communes of Tam Duong and Lai Chau districts in 2019 showed that 99% of the interviewed farmers used pesticides, of which 100% used chemical drugs, only 9% used biosafety ones. Especially, only 10% among those used pesticides correctly as recommended by professional agencies, while 92% sprayed whenever having pests, and 27% other regularly sprayed even without pests. Similarly, 95% of the surveyed farmers used herbicides in farming, of which only 4% used correctly as recommended by professional agencies, 88% sprayed when grass was found and 39 % sprayed for prevention even when there was little grass.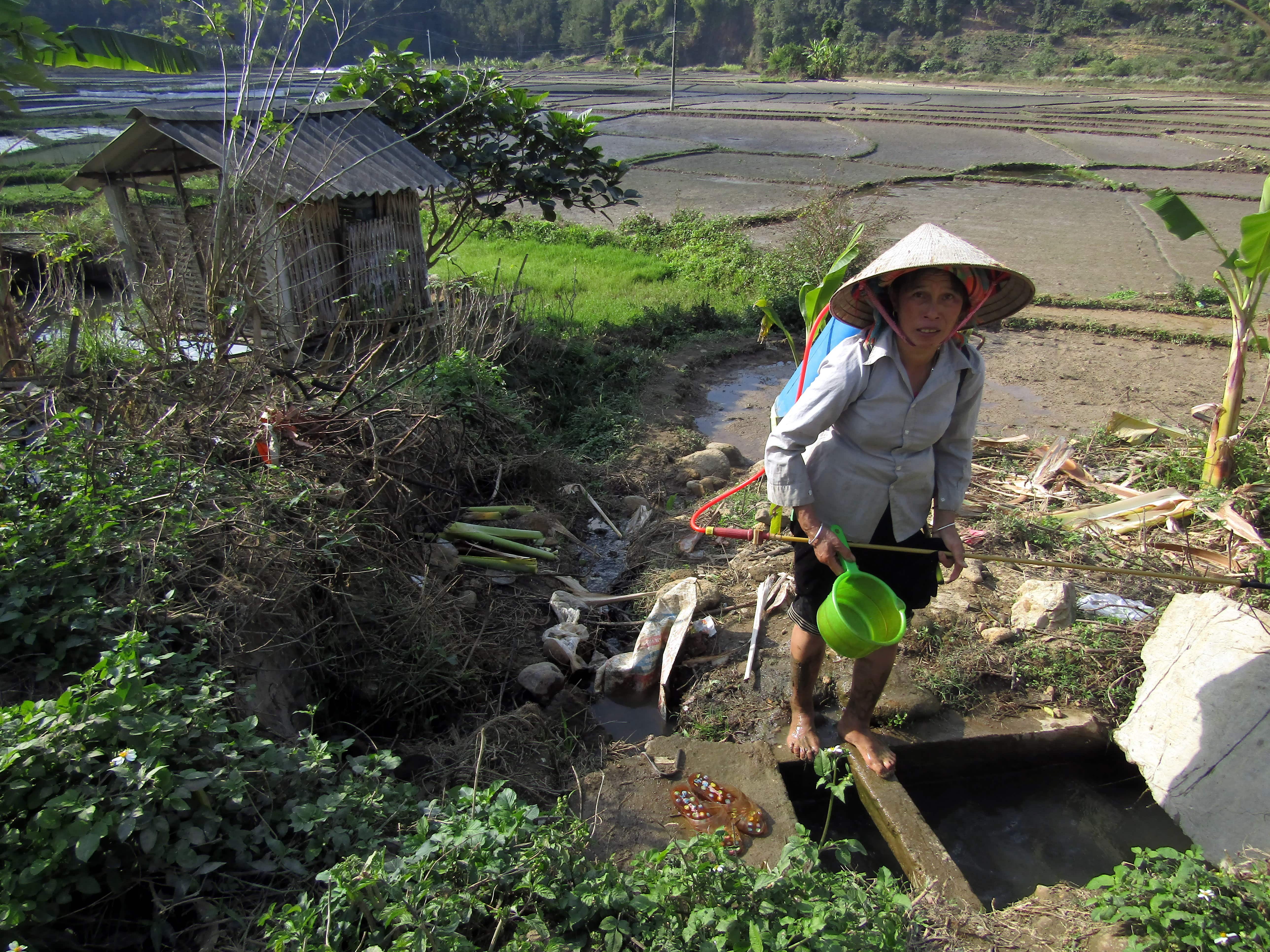 People use handheld sprayers without protection, put it next to the kitchen
Chemical-dependent farming habits are worrisome because the excessive use of chemicals in the fields and gardens will directly affect farmers in the first hand, and then the consumers of agriculture products. At the end of 2018, a test result from the Institute of Occupational and Environmental Health showed that 31/67 people in four suburban districts of Hanoi had pesticide residues in their blood. According to VOV, from 2017 to May 2019, Son La province alone had 462 poisoning incidents related to pesticides; this included an accident in 2018, when 78 people in Moc Chau district had to go to emergency room because of drinking water with herbicides.
With an effort to minimize the harmful effects of pesticides and herbicides on the health of farmers and consumers, CISDOMA has carried out many activities to understand the situation and change the habit of using pesticides in agricultural production.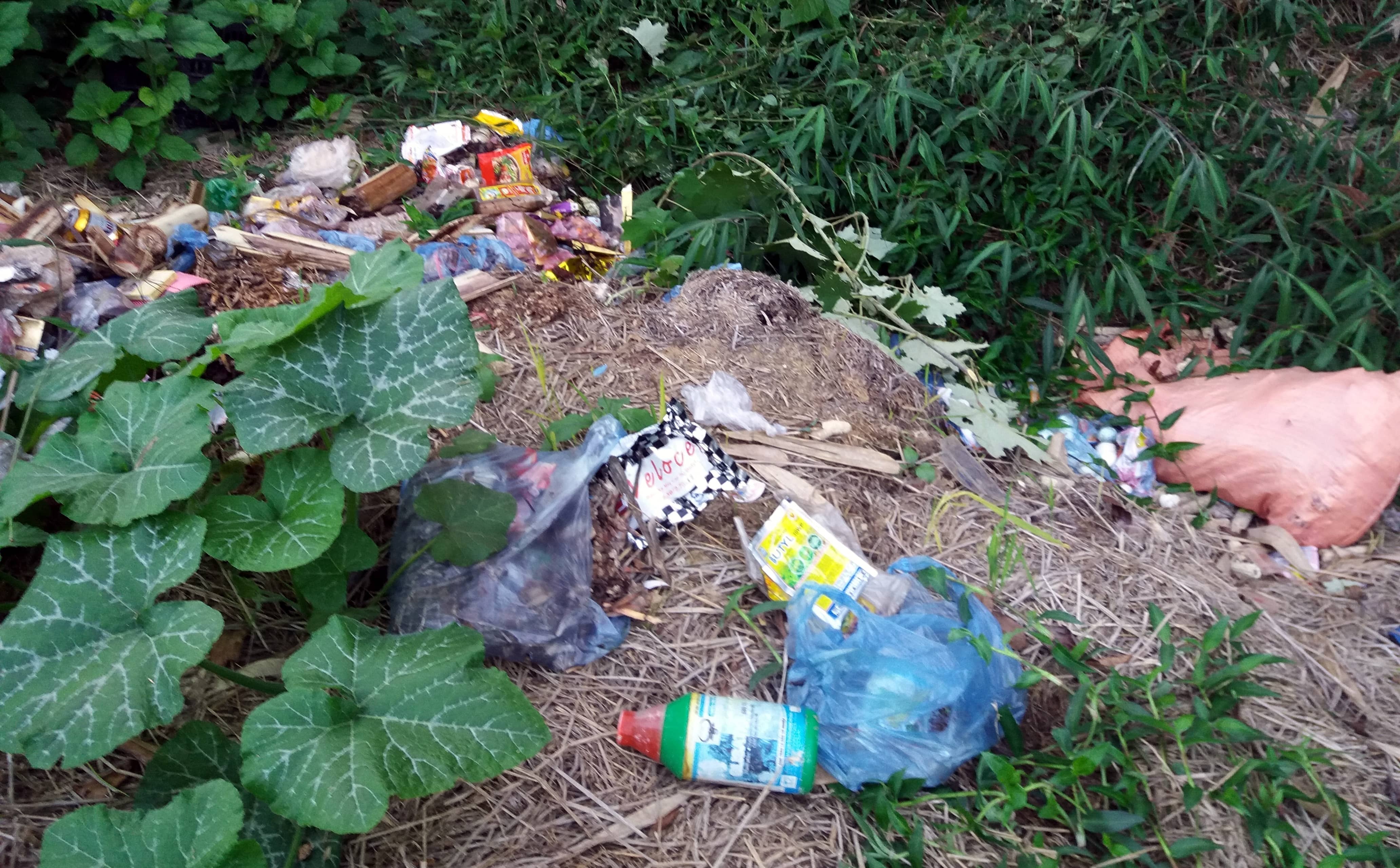 The pesticide containers were thrown in the fields near the irrigation ditch, next
to the stream and mixed with domestic waste
During 2018 – 2019, CISDOMA cooperated with the International Center for Tropical Agriculture (CIAT); UNESCO-HEI Institute of Water Education, Netherlands; Swiss Fisheries Science and Technology Research Institute (EWAG) to conduct research on "Managing the risks of chemical use affecting the surface water in Vietnam". A survey on the pesticide impacts on water resources at 25 GIS locations in 11 communes of Tam Duong and 2 communes in Lai Chau City was conducted. Additionally, images and observations from the field describing the status of irrigation water, pesticide use habits of the people were recorded; modelling of the impact of pesticides on the environment and health risks of villagers were carried on.
In early 2020, CISDOMA collaborated with the International Center for Tropical Agriculture (CIAT), the Swiss Tropical and Public Health Institute (Swiss TPH), the Can Tho City Institute for Socio-Economic Development Studies (CISED) to execute a study "Assessing human health and environmental risks of pesticide use in Vietnam". The study aimed at understanding farmers' perceptions of pesticide dangers on the environment and the health of chemical users in agriculture to improve their knowledge of chemical exposure and its effects on the health of people working in agriculture, as well as to promote innovation and strategies to minimize chemical exposure.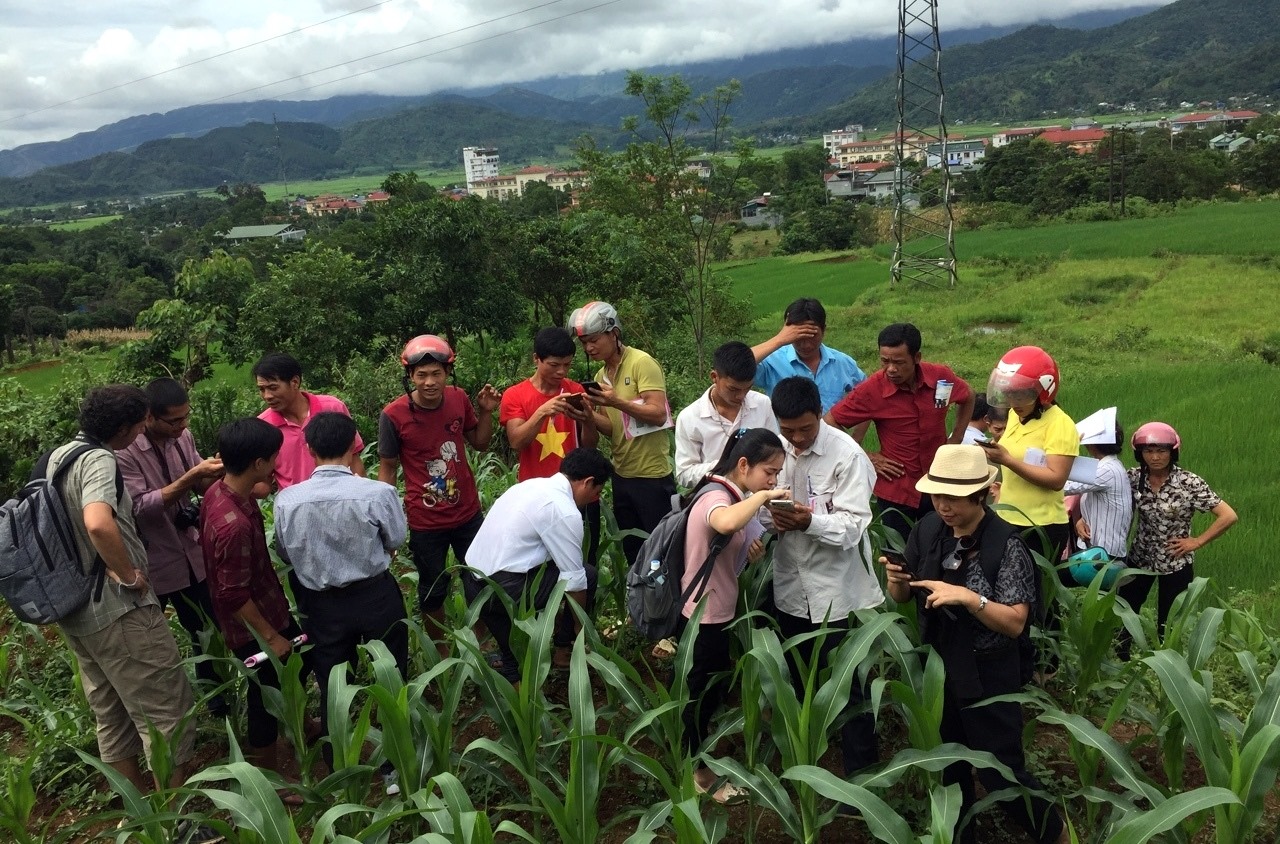 Use mobile applications to map pesticide usage through GIS satellite positioning
In order to protect farmers' health, reduce water and soil pollution, and ensure food safety for consumers, CISDOMA has mobilized funding from different sources including  Heineken, Bread for the World (BftW) to provide training activities, technical guidance and material support for farmers in Tam Duong district, Lai Chau province and Dien Ban district, Quang Nam province. This helped farmers to apply appropriate technical solutions to reduce the use of toxic chemicals in agriculture, properly collect and dispose containers of pesticides, herbicides, and treatment of other agricultural wastes.