On March 21st and 22nd, 2017, The Consultative Institute for Socio-Economic Development of Rural and Mountainous Areas (CISDOMA), in coordination with Ministry of Health (MoH), Lao People's Democratic Republic (Lao PDR), organized the training of auditors for auditing of hotels, restaurants and food factories in Vientiane capital, Lao PDR. It is one of the activities in the consultancy package "Auditing of Enterprises/Restaurants for Good Practices for Food Safety Handling and Good Manufacturing Practices (GMP) and Postharvest Handling" – a part of "Improved Sanitary and Phytosanitary Handling of Greater Mekong Sub Region Trade" Project, which is funded by Asian Development Bank (ADB).
The trainees included 35 staff who are the auditors from Food and Drug Department, MoH and those from Food and Drug provincial divisions.
During the training, the trainees were provided with the understanding in the contents of Good Manufacturing Practices (GMP) and Good Hygiene Practices (GHP), GMP and GHP auditing methods and skills, Sanitary Standards Operating Procedures (SSOPs), the rapid test kits instructions to detect banned substances in food and the food recall procedure.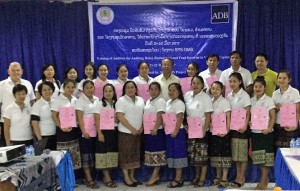 After the training, the auditors will conduct auditing at the hotels, restaurants and food enterprises at the provinces.