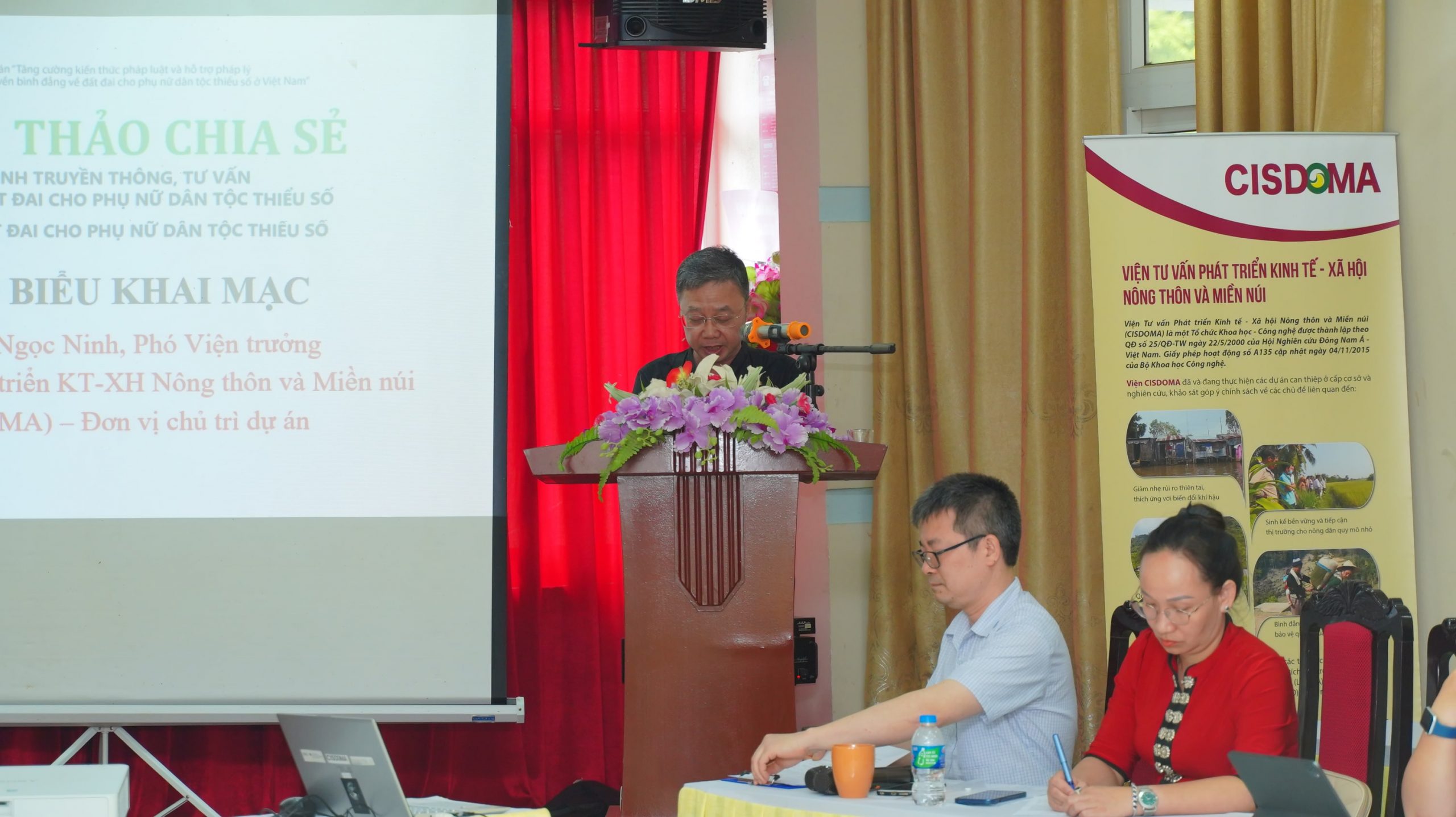 The sharing workshop on effective communication and counseling on equal land rights was held in Mai Chau district, Hoa Binh province, on May 27, 2022, by the Consultative Institute for Socio-Economic Development of Rural and Mountainous Areas (CISDOMA) in collaboration with the implementing partners. Participants the event was nearly 70 delegates from local authorities and mass organizations at all levels working on land management, legal communication, and women's rights.
According to MONRE, by May 20, 2020, there were approximately twelve million land use rights certificates (LURCs), issued to spouse's land but only bear the name of the husbands. The absent of wives' name on the LURCs discourages women from participating to decision making in the families on land related issues; furthermore, it puts women at risks when there is land dispute between women and their husbands or with husbands' relatives.
The initiatives on legal communication and counselling, that aims at promoting equal land rights for ethnic minority women, has been implemented in 19 communes of Mai Chau district, Hoa Binh province, and Que Phong district, Nghe An province, since May 2020. The project has been implemented by CISDOMA, in collaboration with Hoa Binh Women's Union, the Legal Aid Centers, and the District People's Committees of Hoa Binh and Nghe An province.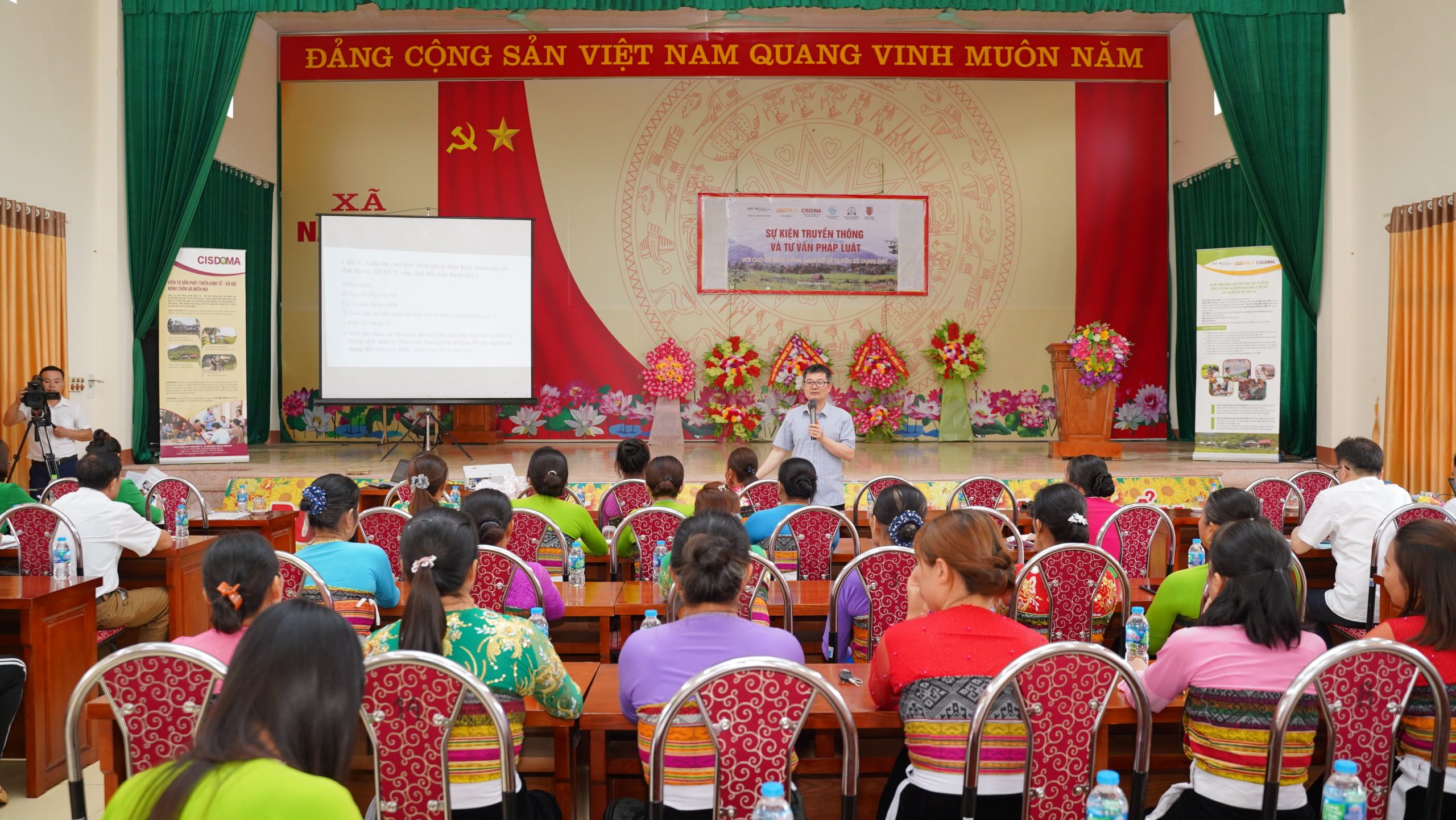 Notably, some significant results are greatly appreciated. First, through a series of training courses, the local staff who perform the task of disseminating land law or advising on land management have increased their understanding relating to gender equality in land use rights and skills communication and counselling. The project also fostered their participation in implementing legal communication and counselling activities for the communities and ethnic minority women in their locality. Second, the village-level communication events have attracted a total of 3,579 local people (81.5% of whom are ethnic minority women). They have gained basic legal provisions in accordance with land law, including the responsibilities and obligations of land users and equal land rights. Regarding legal counselling, 469 people (51.4% of whom are female), who had land issues in their families and communities, received legal advice from para – legal counsellors to resolve their cases. Majority of their land disputes were related to LURC issuance, revision, and transferring the name on LURCs when citizens inherit, donate, or transfer, as well as changing the purpose of the land, and land disputes.
Furthermore, the legal counselling events were organized with the involvement of land experts, professional lawyers, and legal aid workers in collaboration with authorized staff. They provided legal education and advice relating to equal land rights, in which the contents were simplified through games, case studies, and video clips to increase the local people's interaction. A set of Q&A on women's access to land in accordance with the legal framework was delivered by using real-life cases. In detail, local people answered questions and shared their practical ideas, and the facilitators added more information and advice. According to Mrs. Bui Thi Uon, a Muong ethnic woman, at Panh hamlet, Bao La commune, Mai Chau district, Hoa Binh province, "I previously thought that only men and their sons have inheritance rights on land use, as well as only their names were recorded on the LURC. Thanks to my participation in the project, now I have clearly understood that legal regulations recognize an equal right to inherit land and a record of both husband and wife's full names on LURC."
At the same time as the events, the case-by-case counselling needs of local people were addressed at their homes. Their land issues and counselling information were recorded on the legal advice forms, which would be passed back to the person who sought the advice. The contact details of land experts and lawyers were also included in these forms to help locals connect with the counselors continuously.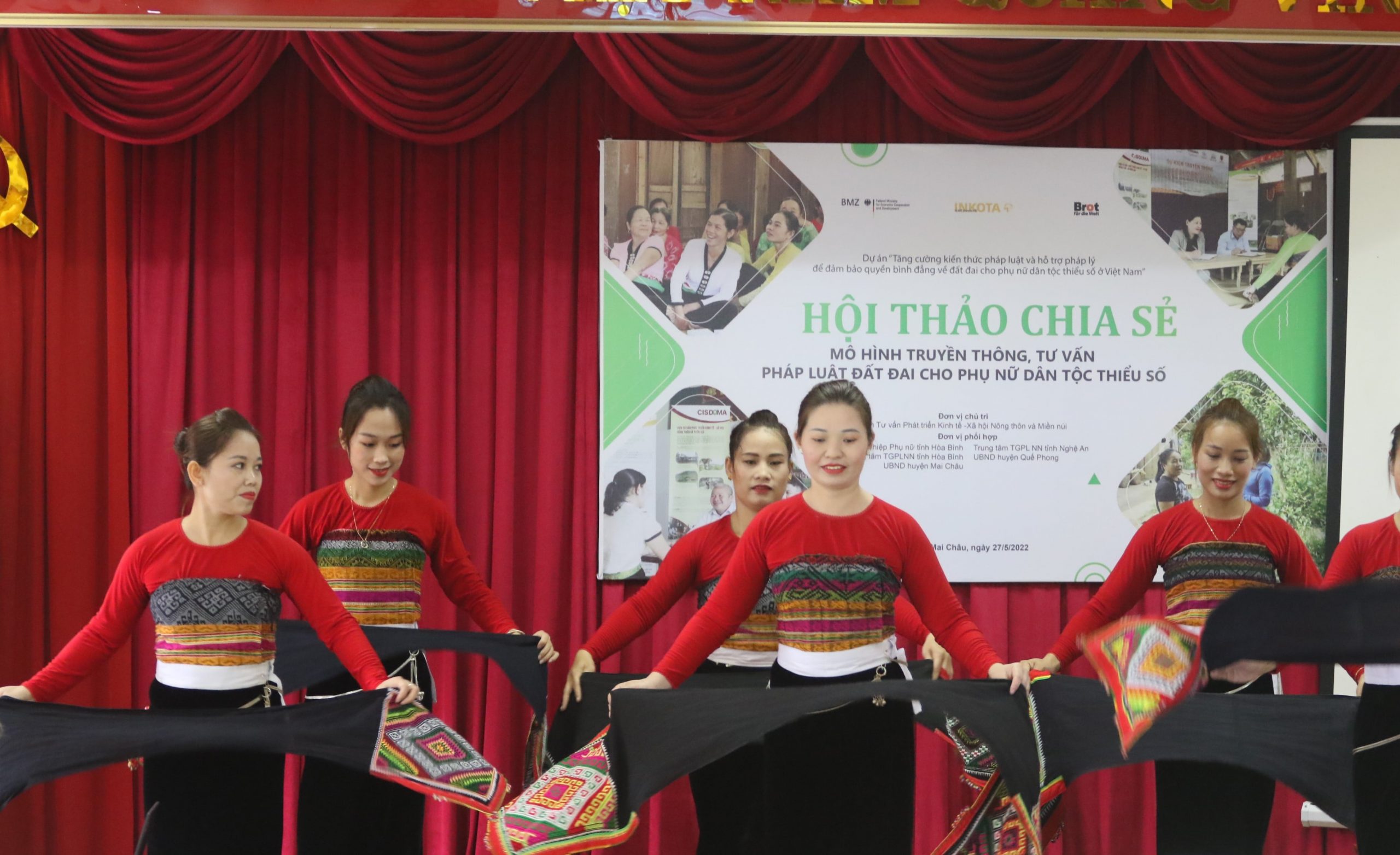 On the other hand, the local staff not only provided legal support in the above–mentioned communication and mobile counselling events but also worked as para-legal counsellors to have regular interaction with the ethnic minority women and provide primary counseling, on-site guiding, and mediation within their capacity. In case of failed self-reconciliation, they also could connect with professional lawyers to get technical advice during legal processes in court. "Currently, I have deeply understood legal literacy relating to land law. Especially, due to my active involvement in the grassroots counselling practice, my self-confidence has rapidly boosted. For example, I am able to effectively perform my tasks in disseminating and providing legal assistance to local people. This is completely different to the way I did before, which basically assembling dossiers." (Mr. Ha Cong Nhuan, a judicial – civil official at Bao La commune, Mai Chau district, Hoa Binh province).
In order to extend the implementation of the para-legal aid model for women in land issues, CISDOMA, in collaboration with the Central Women's Union, have developed a guideline, entitled "Handbook for para-legal communication and counselling on women's land rights." The printed document will be shared with the wider public to help more and more ethnic minority women access equally their land rights in accordance with legal regulations.