The activity is within the framework of the project " Youth address gender stereotypes and promote gender equality in Vietnam.". The talk shows were held at 5 universities in many fields, especially training in the field of communication and marketing.
Representatives of recruiters: Mr. Vu Hai Quang – Deputy Director of Voice of Vietnam, Ms. Mai Hai Duong – Deputy Editor-in-Chief of Auditing Newspaper and representatives of the Experts group and journalists.
Representatives of the Academy of Journalism and Communication who participated in the talk show were lecturers and students of the Faculty of Broadcasting and Television.
As the fact that female journalists have brought back many positive contributions to the journalism career and attracted the attention of the public, however, it was a difficult path for them to gain success and the proper evaluation. On the other hand, they also have to face many gender stereotypes in their career. Aware of this, the panel discussion gave out the analysis and perspective on the career of female journalists.
Have a speech about the stereotypes of female journalists, Mr. Vu Hai Quang shared: "Large media corporations such as Voice of Vietnam – Vietnam Television percentage of female worker is higher than male worker. We want to affirm that women have been and are being respected. In the field of journalism, men and women are the same. Especially in the field of investigative reporting, women have more advantages. However, holistically, the percentage of female leaders in the media corporations is still limited…"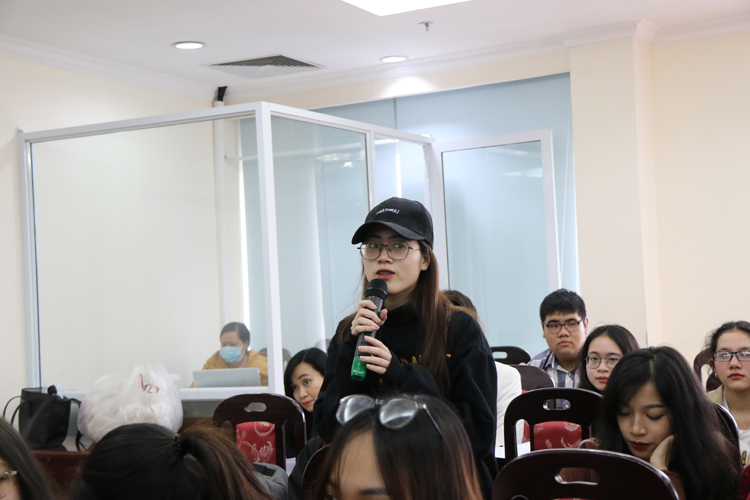 Students have the question to guests and experts
According to Ms. Quach Thi Thu Trang – Deputy Director of the Center for Health and Population Initiatives also believes that journalists are the ones who set the direction for society's awareness, therefore it is necessary for the journalism industry to constantly promote respect for women.
Not only bring out the problems for journalists but it also helps students cultivate more knowledge about a specific career. The discussion contributes to changing gender stereotypes, especially about female journalists. It also