On October 10, 2014, The Consultative Institute for Socio-Economic Development of Rural and Mountainous Areas (CISDOMA) and the People's Committee of Yen Thanh commune (Quang Binh district, Ha Giang province) held the closing workshop of the VACI 2013 project "Replicating the pilot model of community participation in the planning of public facilities at local level."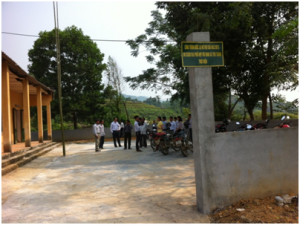 Image: Pa Vay Sui hamlet's community hall was renovated with support from VACI Project
The workshop was attended by Nguyen Tuan Hung – Representative of Quang Binh district's Commission of Mass Mobilization, Hoang Thanh Dai – President of Quang Binh district, Nguyen Quang Huy – Party Committee Secretary of Yen Thanh commune, Hoang Xuan Doan – President of the People's Committee of Yen Thanh commune, and other representatives of local Women's Unions, Youth Unions, Farmer's Unions, Fatherland Front, and CISDOMA.
The project was launched in November 2013 and ended in October 2014.
At the workshop, Nguyen Thi Thanh Nha, program officer of CISDOMA, briefly introduced the project activities and outcomes. The participants took part in a plenery session to discuss these outcomes to analyze the project's shortcomings, summarize lessons learned, and determine the possiblity to replicate the model further.
Representatives of project beneficiaries in Yen Lap and Pa Vay Sui hamlets said they felt contented as the project allowed the community halls in Yen Lap and Pa Vay Sui to be renovated. Vang Seo Cho – Chief of Pa Vay Sui hamlet (Yen Thanh commune), said: "Pa Vay Sui has been facing a lot of difficulties. Before the project, our community hall was merely a small house locating on a hill. Because there weren't any concrete barriers to protect it, buffalos and bulls from surrouding areas could easily enter and damage the hall. With financial support from the project, we have managed to build these barriers. We have applied the knowledge gained from the project, including: Collecting people's opinions about constructing the community hall's barriers; Announcing the work's budget and together with people in Pa Vay Sui deciding the methods and amount of contribution; Voting on the Monitoring Board of the hamlet; and Announcing the budget statement. With these, we have completed our project in accordance with the gist of Grassroots Democracy Ordinance: People know, People discuss, People do, People monitor."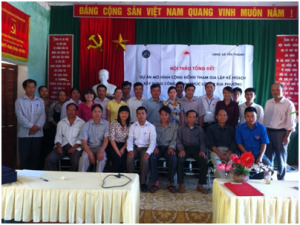 Representatives of eight hamlets in Yen Thanh commune undertook to apply the model "Community Participation in the Planning of Public Facilities" in their locality.
On behalf of Yen Thanh commune, Hoang Thanh Dai, President of Yen Thanh commune, said: "Since the project was launched, people in Yen Thanh commune have gained better understanding of Grassroots Democracy Ordinance and of people's rights to participating in socio-economic development planning at local level. The project has attracted attention and participation of the community and different authoritative bodies in the commune, helping ethnic minorities to better grasp laws and policies of the Party and the Government. This is a practical and effective project. Chiefs of eight hamlets in Yen Thanh commune have undertaken to apply this model in their locality to strengthen openness, transparency and people's participation in the planning of public facilities and socio-economic development at local level. On behalf of Yen Thanh commune, I sincerely thank CISDOMA for their support and provision of useful knowledge, scientific working methods, and democratic practice model."