Hanoi June 08, 2018, twenty participants coming from various organizations in Laos and Vietnam attended a one-day sharing workshop on simulation games organized by the Consultative Institute for Socio-Economic Development – CISDOMA. From practical experiences of practitioners, great potential for application of the games was observed as the result from this workshop.
On June 08, 2018, CSDOMA organized a sharing workshop on Simulation games. Attending to this workshop are 20 participants coming from various organizations including representatives from Cirard in Laos, ALiSEA in Vietnam, NGOs staff, officers from district Agriculture Bureaus and Extension Station, key farmers from 3 provinces of Ha Tinh, Soc Trang, and Lai Chau in Vietnam.
During the workshop, participant actively shared their experiences and lesions from adopting simulation games in different contexts in Vietnam and Laos PDR. The practitioners also analyzed the advantages, disadvantages when applying simulation games; on the context that the games could be most effectively used and, on the conditions, requirements for successful application of the games. Especially, with the facilitation of Dr. Patrick D'Aquino a twenty-year experienced expert, the participants were better informed on the philosophy and key principles on designing and facilitating simulation games.
Sharing about simulation games between Laos, Viet Nam, and experts from CIRAD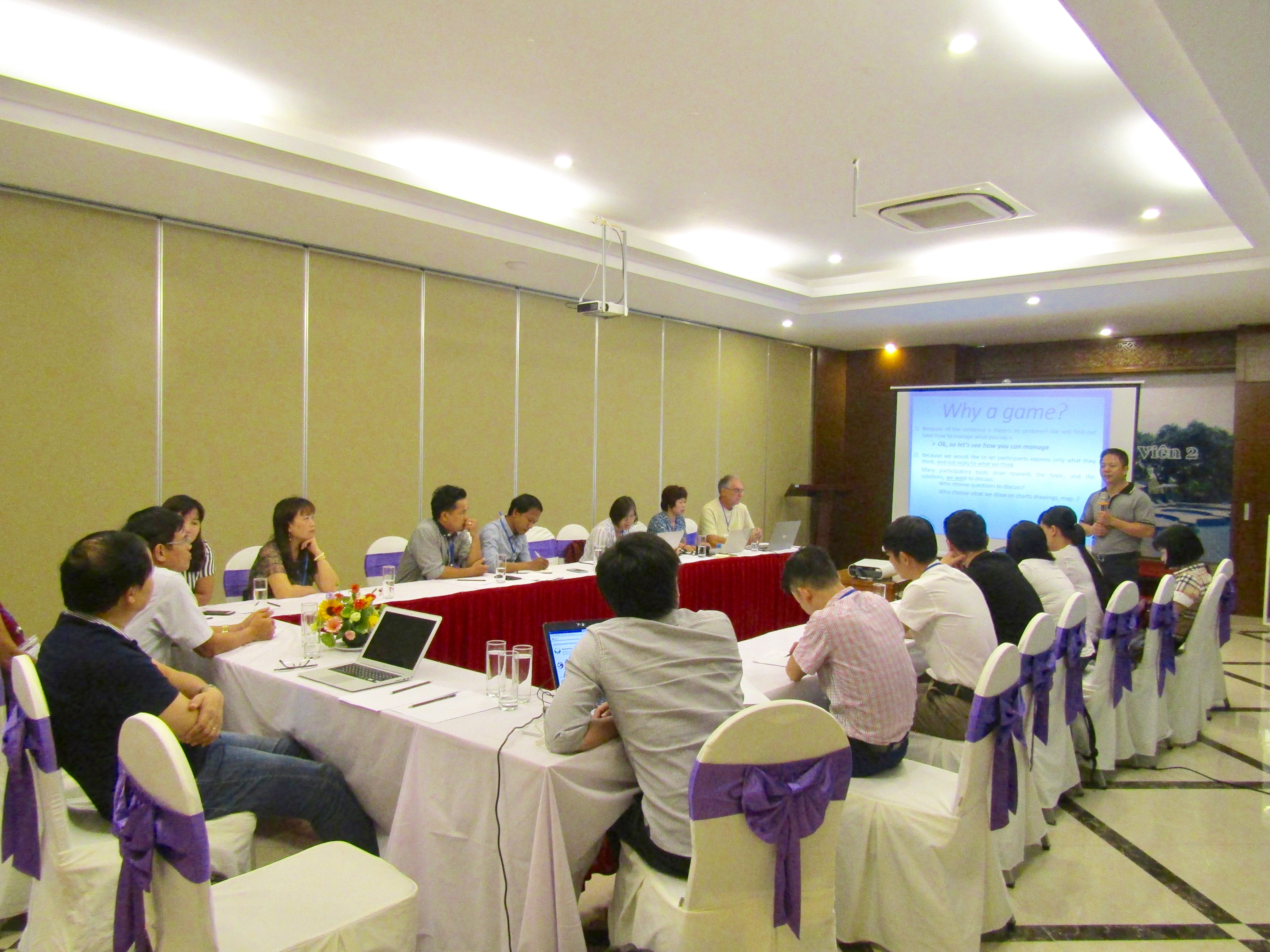 Though simulation games are just recently applied with farmers in Vietnam, all participants agreed that it is a very high potential for expanding the application of the games in Vietnam. Participants also expressed their interest and intention on applying simulation games in their respective projects.
The workshop is part of the project "Promoting agroecology transition via enhancing farmers' analytical and decision-making capacity through application of simulation games" funded by French Development Agency (AFD) through the Agroecology Learning Alliance in South East Asia (ALiSEA) and ACTEA.
Key results of the project
24 key facilitators trained and be able to facilitate the games
Board games developed for 09 locally designed games
Reach out to more than 200 farmers
Introduce 8 ecological models (crop & livestock), 03 model was applied by farmers
Proven as a useful tool for facilitating farmers engagement and analysis.
Adopted by 2 other organizations/ projects
For more information about project and simulation games, please visit sites:
5-minute video
https://www.youtube.com/watch?v=n4HbtbNNzM8
15-minute video