On December 23, 2018, CISDOMA, in collaboration with Center for Development and Integration (CDI), Association of Vietnam Retailers (AVR) and Information Center for Agriculture and Rural Development (AGROINFO) co-organized "Vietfarm Award – Pride of Vietnam Agro-products 2018", which is funded by Irish Aid as the main sponsor. VietFarm award and Vietfarm standards aim to promote and support small production farmers and farmers groups, cooperative to standardize enhance their porduction capability towards sustainable agriculture.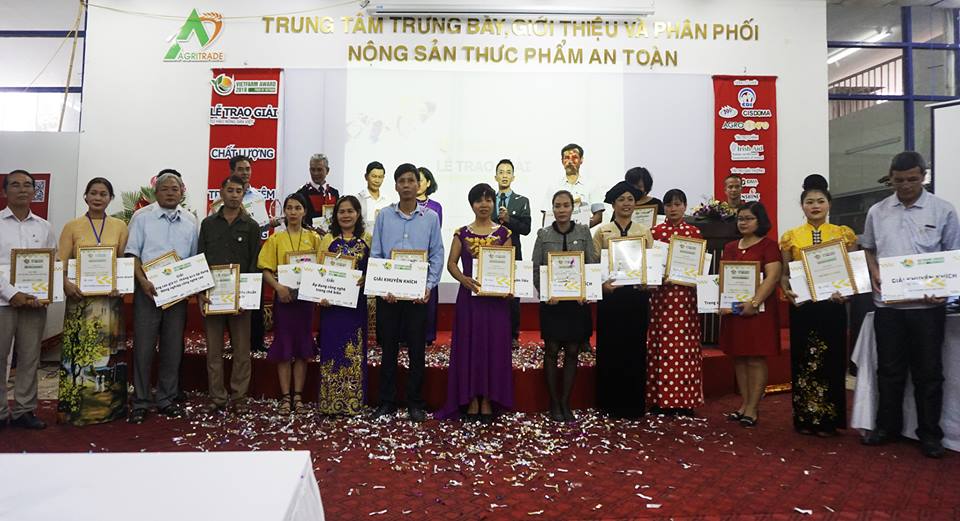 Picture: Winners receive the award
In order to identify and honor efforts for a sustainable agriculture, Vietfarm Award was launched in 2018. The award is targeted to households; co-operations, coalitions; medium, small and micro enterprises that engage in producing and processing farm products.
Vietfarm Award has 40 main criteria divided into 4 groups: 1) Quality, 2) Responsibility doing business, 3) Social fairness and 4) Environmental sustainability.
There were over 100 agencies and farmers from all over the country have registered to the competition. After self-judged round and short-listed by the organizer, 29 agencies were passed to the final round of Vietfarm Award 2018. They come from Northern mountainous area, Red River Delta, Central Highlands and Mekong River Delta with various kinds of products include industrial crop; fruit tree, vegetables, spices, meat….The field assessment was conducted by an advisory board members to each of the 29 finalists to select the most suitable ones for the prizes.
Vietfarm Award 2018 has given 01 special prize and 04 first prizes: "High Quality Agriculture Performance" Prize; "High Responsibility Agriculture Performance" Prize; "Fair Agriculture Performance" Prize; "Sustainable Agriculture Performance" Prize". Moreover, many of these agencies received Consolation Prize; development support from personal and organizational sponsors.