From March 22nd to 24th 2017, The Consultative Institute for Socio-Economic Development of Rural and Mountainous Areas (CISDOMA) organized the training workshop on communication skills at Kim Boi district, Hoa Binh province. It is an activity in the project "Securing the land rights of women in ethnic minorities through legal support", which is funded by Mekong Region Land Governance (MRLG).
There were 34 participants who are the officers of Kim Boi district's Bureau of Natural Resources and Environment, Bureau of Justice, Women's Union, Farmers' Union and the land officers of 19 communes in the district.
During the training, with the learner-centered methodology, the trainees not only were provided with the instructions in applying the communication skills but also had the chance to practice through the practical situations.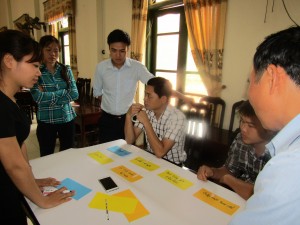 After the training, the trainees expect that they would be able to apply the knowledge and skills learnt in the communication work, especially that related to land governance, at their local areas.
Mr. Bui Trong Nghia, the land officer of Que Ha commune – a trainee said:
"Previously, we carried out the communication but it was not done scientifically and systematically. For example, we launched communication activities to raise people's awareness in the 2013 Land Law but did not receive the attention from the citizens because of the lack of  skills. After this training, I have been equipped with the necessary skills for more efficient communication. I am also aware that the tools like posters, leaflets, oral communication, etc. are suitable and easy to apply. Such trainings should be extended in other communes."